Back to Illuminate
Back
The community for today's
early talent leaders
Back to Illuminate
10 minutes
What did we discuss at the Illuminate Summit?
23 November, 2021
The best advice we heard at the Illuminate Summit
Back in 2018, Bright Network's Illuminate community was launched, with just 20 employers at a roundtable discussion on social mobility. Now, with over 1,000 members, the Illuminate virtual events have been a network of support for employers at the height of the pandemic.
On Thursday 21st October we welcomed over 50 early talent professionals across a range of industries to our first-ever Illuminate Summit. It was great to bring this community together for the very first time and with a sense of normality, and the venue - RSA House - was bustling with energy and networking opportunities. Our panel of speakers contributed to discussions on how employers are redefining their recruitment strategy to attract the most diverse students and graduates. These insights were supported with practical data-driven sessions before we closed with a Q&A panel with four Bright Network members who gave their honest and open views on what they want from employers.
Here is a recap of the best advice we heard at the Illuminate Summit.
Embrace agility as you seek to make change
Our keynote speaker, Pauline Brandt, took attendees on the journey of her own career, highlighting that success is not always as simple as A to B. She described the need for change if we want to truly move the dial on DEIB.
We have to be ready to pick up a range of skills and become agile in our approach to change. Pauline highlighted the importance of distilling the 'why' behind your strategy: is this solution that we have used for years still relevant today? If not, it's time to utilise our resources and skills to rethink what we're doing.
Pauline introduced the concept of 'sponsorship' to address the challenges that mentorship has not yet been able to solve. She discussed the notion that minority ethnic groups have been 'mentored to death'. For underrepresented students that have the experience and have already built up their skills but are still not getting through application processes, what they need is somebody who is going to be a sponsor and champion them in the rooms that they do not yet have access to.
Centralise data in your DEIB strategy
A modern approach to RPO begins with data, says Bright Networks senior recruitment operations manager, Paul Porter.
You have to know where you are and where you're starting from to start to understand the role of DEIB in your processes. You need to know your own demographic: is it representative of the sector you work in? The location that your offices are based in? The student population and the subjects they're studying compared to the skillsets you're looking to hire? If you can't answer all of these questions you run the risk of committing yourself to arbitrary targets or being fundamentally misled on what diversity and inclusion for your firm looks like.
Paul highlighted female software engineers as an example; clients will set out to achieve a cohort of 50% female to male software engineers without knowing the reality of what the data shows us. Only 19% of computer science graduates are female and 26% are studying wider STEM subjects. Combine this with the technology giants that offer students jobs in their first year of university. By the time you've waited for students to graduate and are looking to hire someone with those skills, you are already behind the curve. Achieving this goal will take a larger and much more combined effort by governments and universities to challenge the status quo and improve access and awareness for students.
We are all driven by purpose. Make this core to your company vision.
In a Q&A panel session with our student and graduate members, the employer attendees were encouraged to challenge their existing views of what graduates want from them. When asked what they thought was the biggest turn off for students when applying for roles, lack of development was the most popular choice for employers.
For Graduate Delivery Manager, Sophia, development is more than just the availability of roles, but it's seeing who is in leadership at a firm. This was a key attraction in drawing her to apply for a role at BAE Systems. She could see young female leaders and was confident of her ability to progress there.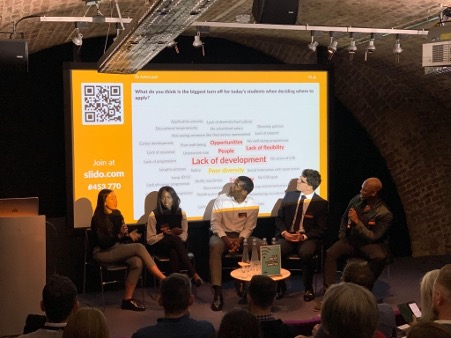 Philosophy & English Literature student at the University of Warwick, Janice, caveated this point with insight into how the pandemic has shifted her priorities when it comes to what she looks for in a graduate role. "Going through all that has happened over the past 2 years, students are very much in search of a genuine purpose in the work that they do - I think that is something that is hugely missed out on by employers."
The next generation is looking to work at firms that align with their own values in order to show up as their authentic self and engage proactively. Making your company's purpose clear in your attraction messaging is vital to targeting the groups you are trying to attract.