Back to articles
Back
The community for today's
early talent leaders
Back to articles
10 mins
The future of emerging talent hiring – our Illuminate Conference 2023 round-up
3 October, 2023
We had ~200 employer partners join us last week for our Illuminate Conference, where we came together to share insights and knowledge, sparking conversation about crucial challenges and opportunities in the industry, now and in the future.
We kicked off the event with a fantastic fireside chat between industry pioneer Dr Anne-Marie Imafidon and our Commercial Director, Helen Condé. After this, a series of breakout sessions followed covering topics such as engaging Gen A, empowering neurodiverse talent, mental health matters, evolving DEIB strategy, the future of tech hiring and hiring across Europe.
The day closed with presentations and a Q&A with a panel relating to AI and posing the question: is AI a blessing or a curse for early careers recruitment?
Read on for a full recap including actionable takeaways for you and your team.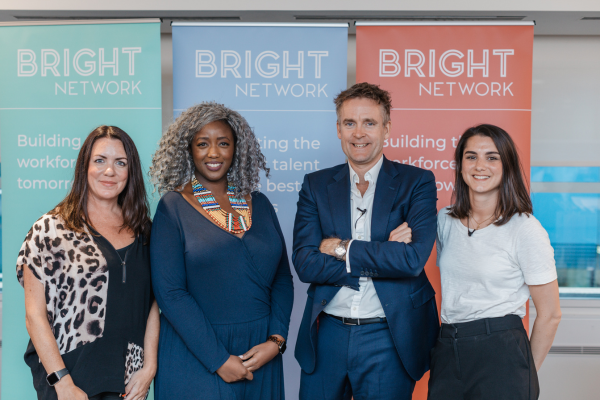 Engaging Generation Alpha: Lessons from attracting Gen Z
Jackie Grisdale, Youth Marketing & Early Careers Specialist at SMRS, took us through the motivations and characterisations of Generation Z and how through understanding these we can start to plan how to engage with Generation Alpha, who will be entering the job market from ~2030 onwards.
Jackie talked about how Gen A will share many of Gen Z's characteristics, but at an even more prominent level. They will be digital natives, entrepreneurial, purpose driven, even more globally connected, even more demanding and the most diverse ever. A Q&A with a member, Hrutika, who is currently half way through her time at college and thinking about her future, gave the audience further insight into these topics.
Key pieces of advice shared were:
Brand: Make sure your organisations purpose, values and attributes align with the Gen A audience you're looking to attract and don't just view young people as a collective. Keep evolving your brand to stay relevant. 

Communication: Communicate your brand's purpose, values and culture clearly and authentically through storytelling, consider the long-term so you can build sustainable pipelines and make your candidate experience a consumer grade experience. 

Culture: Bring your culture to life through the stories you share, evolve roles to best harness the skills and attributes of emerging talent and think carefully about intregration and the full talent lifecycle. 
An interesting takeaway was:
Although Gen-Z are the most tech reliant and use social media as one of the first steps in researching jobs, Hrutika said the first port of call for getting more information would be asking those in her network, so this really emphasises the importance of creating a well-known and positive brand presence.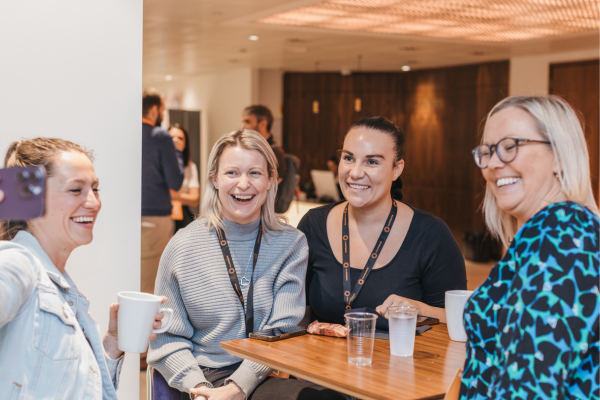 Empowering Neurodiverse Talent: Creating inclusive opportunities
Theo Smith, co-founder of Neurodiversity World, gave us his perspective on creating inclusive opportunities for a neurodiverse audience and his advice on how to empower these candidates throughout your application processes. He shared how the human brain has developed over 200,000 years but the world of work and the roles available have completely transformed in just the last 200 years. The variety of unique skills and attributes that different types of neurodiverse people have are something Theo thinks needs to be tapped into much more widely when it comes to hiring.  
Key pieces of advice shared were:
Review your processes: Audit every area of the recruitment process to find the barriers for neurodiverse talent that might create anxiety and prevent them from applying, then address these steps

Think about communication: Assess the way in which you provide your information and offer the information in a variety of formats – one example that can help eliminate barriers for a neurodiverse brain is Bionic Reading

Offer different paths: After auditing your process, make sure to build paths that can work for different types of candidates. An example is to provide the option to opt in/out of parts, such as example the ability to opt out of long, detailed job descriptions and instead show just key bullet points covering the key tasks and requirements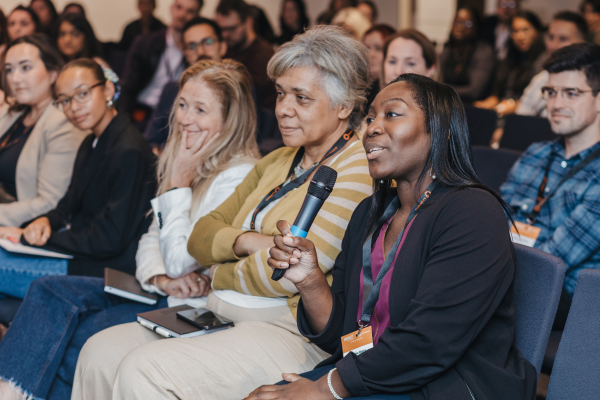 Mental Health Matters to Top Talent: Are you doing it right?
We heard from Alissa Garland, Early Careers Recruiter at Bloomberg, about how best to support emerging talent when it comes to their mental health and wellbeing. She showcased the methods used at Bloomberg which included having trained mental health first aiders on hand, a suite of benefits under a medical plan and an instant chat system that encourages safe spaces with connections in the business about mental health related topics. 
A Q&A with two of our members, Alex and Megan, added further insight into the best ways to support.
Key pieces of advice shared were:
Be authentic: Students won't appreciate one-off mentions of mental health support – it needs to be championed every day of the year. They're doing their research and will spot if your organisation's commitment lacks authenticity, so where you've got real and meaningful initiatives, make sure you're clearly showcasing them. 

Start supporting ASAP: Offer new hires access to mental health services and benefits as soon as the contract is signed, not just when they start. Starting your career is daunting, so they will appreciate the early access.

Approach at different levels: Variety and different levels of support is key to your strategy. Some examples include anonymous private messaging, direct f2f confidential chats and networks that champion support through events and awareness raising. 
An interesting takeaway was:
Our members mentioned that while they understand some companies need to work in the office, they would lean towards a role that offered more flexibility with their mental wellbeing in mind. Employers should make it clear if their flexible working guidelines are more recommendations rather than rules, as in some cases they're actually more flexible than they initially seem. 
Evolving DEIB strategy: If it's not intersectional, it's not fit for purpose
From Apple, I&D External Partnerships Lead Mari-Anne Chiromo (MAC) gave us her perspective on how companies should be evolving their diversity, equity, inclusion and belonging strategy in the future. She focused on intersectionality – without considering someone's entire identity and the way different elements intersect, your strategy will no longer be fit for purpose. Intersectional thinking, planning and action needs to be taken. 
Our members Tashan and Hanna took part in a Q&A discussion to share their thoughts on the subject. 
Key pieces of advice shared were:
Which women?: 

When you are taking an intersectional approach it's important to be explicit about who you are trying to reach – a job description that is looking for women will mean different things to different women. Employers should consider going a step further to detail which women more specifically with which levels of experience they're looking for. If the role is truly for all women, clearly showcase how. 

Test your processes: 

Measure the success of your approaches from the perspective of intersectionality by walking different profiles through your recruitment process and identifying any barriers to specific aspects of backgrounds along the way – for example, is there a barrier that a black single mother would come up against that a black mother with someone to help with care wouldn't have to face?

Feedback is vital: 

One of the biggest barriers our intersectional members commented on was that they struggled when they did not receive any feedback from recruitment processes. Ensure you offer this so that candidates can work on improving and equipping themselves with the skills to succeed.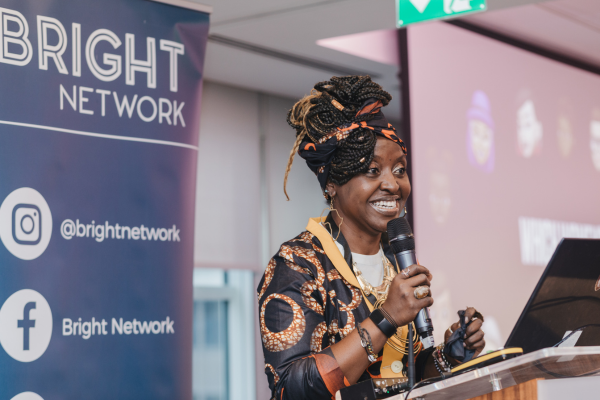 The Future of Tech Hiring: How to solve the tech talent crisis
Rachel Carvell-Spedding and Joe Mackley of Bright Network Technology Academy discussed how we can solve the tech talent crisis now and into the future by changing our approach to tech hiring.
Looking back, we've seen a 30% increase in tech roles over the last 10 years, which has resulted in a skills and diversity shortage as there hasn't been a relative increase in people entering the tech industry. This gap is set to grow exponentially and especially for black talent and female talent working in tech. 
They showed us why the current model for hiring in tech just isn't working because of: lack of computing degrees being studied, lack of inclusivity in the sector and the rapid ever-changing nature of the skills required being tough to keep up with.
Key pieces of advice shared were:
Review your strategy: Many employers are just focusing on grads and apprentices, employers need to act now and set up 'non-traditional' pathways that focus on training and nurturing non-computer science talent into technology experts. Offer early intervention with candidates that have the potential to grow into your tech roles.

Look at the gaps: Identify where your teams are consistently struggling to fill roles/vacancies, or where the cost/time to fill is above average. These are opportunities to trial non-traditional routes into technology and building out programmes to support

Are you hiring people reflective of your customers?: If we fail to push for diversity in the tech industry, we risk a world where non-inclusive tech is created that doesn't have every type of customer in mind. Create supportive environments for diverse candidates to thrive, showcase the commitment in your marketing and make sure everyone in the business is on board.
Hiring across Europe: How to join up your strategy
Ben Triggs, International Expansion Director at Bright Network, gave us his advice on how to build an emerging talent hiring strategy that works across Europe and shared key insights into what it's actually like running a graduate recruitment network in Germany. He was joined by Bright Network DE member Daria for a Q&A which helped bring extra insight to the conversation around her experiences.
Key pieces of advice shared were:
Be clear about why aligning your strategy across Europe is important to your business:

 

Whether that's to support cross-regional targets, to optimise internal resources and tools or to be part of giving candidates a wider breadth of opportunities. 

Make sure your strategy is adapted to each university system:

 

Take care to look at details of the system you're keen to infiltrate, such as term dates, length of courses, student make up, exams and the sort of work experience students might have been able to acquire during uni

Consider how you might be able to approach DEIB in that market:

 

It's not always the case that your UK DEIB strategy can be easily aligned across European markets. As well as other countries facing different challenges when it comes to inclusion that may need different goals to focus on, there's also varying approaches and laws in place when it comes to data collection. This may prevent the ability to accurately understand and support diverse groups in the way you currently do in the UK. 

 
An interesting takeaway was:
Throughout all strategy building for European hiring, it's worth nothing it will be harder to cross-compare success across markets and find where things need to improve if you don't have central reporting. Find out whether you track the same metrics across the markets and whether there are benchmarks you can measure against. Good metrics to track across markets include: % roles filled, renege rates, retention rates, manager scoring and whatever D&I data you are able to collect. 
AI: A blessing or a curse for early careers recruitment?
We were joined by Estelle McCartney from Arctic Shores, Kat Miller from IBM, Lana Baker-Munton from Alpha FMC and Dan Wilson from Bright Network for this AI session. The audience was first asked to raise their hands for whether they thought it was a blessing or a curse: 'curse' won the majority. Each speaker gave a short presentation on AI in early careers recruitment, with the following standout takeaways:
Estelle from Arctic Shores shared some of their research around how AI is already being used on the student side, showing that 72% of students use some form of Generative AI, 7 in 10 would be using it in their applications in the next 12 months and a third would not work for an employer who prevented them from using it. 
Kat from IBM showed us that by thinking about how you currently run your processes, you can identify where AI can make a huge difference when it comes to efficiency, for example helping to speed up your candidate response times by having the AI let you know when someone hasn't submitted an application stage and offering to draft and send a prompt to applicants. 
Lana from Alpha FMC raised an important point around not letting the time needed to learn about AI hold you and your teams back from starting to work towards understanding it. Many of us in the industry feel too busy, especially during campaign delivery season, but spending the focused time now will pay back in big dividends in the future when it comes to time-saving, candidate experience and hiring efficiency.
Dan from Bright Network offered a word of warning around using AI to help recommend candidate matches, giving a stark example of a model learning bias and recommending candidates with married parents over candidates with divorced parents. This emphasised the importance of human intervention when it comes to maximising the effectiveness of AI in screening and recruitment. 
The speakers then launched into a Q&A session with our Platform CEO Kirsten Barnes. One theme covered was that although it all feels as if it's moving fast, it's not too late to start working with AI. The key advice from the panellists was to take the time making sure that teams fully understand how it works before starting to use it - set the foundations and use it to support efficiency, not to fully replace what is already working well. 
An overarching theme was that employers should be embracing AI. Whether it's 'a blessing or a curse' may not matter at this stage - it's happening and we need to start working to understand it. 
By the end of the session when asked whether AI was a blessing or a curse again, the majority of the audience had changed their mind to 'blessing'. 
If you missed it, download a copy of our Impact Report where you'll learn about the key changes coming your way in the next 10 years of emerging talent hiring.