Breaking Barriers
20th October
About the event
42% of black heritage Bright Network members feel that their background has hindered them during their application process. Our aim with Breaking Barriers is to support our members by connecting them with companies that champion diversity and inclusion, removing the barriers to understanding and accessing to top career opportunities.

It's your chance to connect with these ambitious members, while positioning your company as a strong advocate of diversity and inclusion.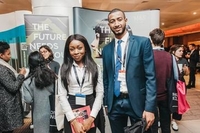 What to expect?
Connect with 100+ pre-screened members at this event focused on social mobility. 90% of students will come from a state educated background, as well as first generation to go to university and those who received free school meals, all excited to learn more about your company.
How to get involved
Email us for more information and to book your place.
Highlights of Breaking Barriers 2020
first generation to attend university
received free school meals
Partner tiers
Platinum
Pre-event:
Broad scale brand raising within our network
Dedicated account manager to prepare you for the day
On the day:
Skill session
Keynote speech
Seat on a panel discussion
Networking with attendees in your own branded booth
Up to 10 delegates
Post-event:
Gold
Pre-event:
Broad scale brand raising within our network
Dedicated account manager to prepare you for the day
On the day:
Seat on a panel discussion
Networking with attendees in your own branded booth
Up to 5 delegates
Post-event:
Previous event partners